The microswitch on the valve

The micro switch or limit switch is installed on the spool on where another side of the valve just like the pictures shows. And, it can control the oil supplementary valve, overload valve, flow divider valve. So it should play an important role in the components. However, not all the hydraulic valves in the forklift will install micro switches. Today, I will show you the forklift control valve with microswitches and what kinds of switches you will need.
What's the forklift control valve?
The function of the forklift control valve control system is through the operation of the multi-way valve to change the flow direction of the hydraulic oil. So that the working device of the forklift can be controlled to the mast lifting and tilting forward or backward. Meanwhile, the limiting pressure of the hydraulic system can prevent the overloading of the forklift.
The directional control is generally designed to be stackable. They normally have one valve per hydraulic cylinder as well as a liquid input that provides all the valves in the pile.
In order to avoid dripping and also manage the high pressure, tolerances are preserved exceptionally tight. Generally, the spindles have a clearance with the housing of less than a thousandth of an inch or 25 µm. So as to stop obstructing the shutoff's very delicate components as well as misshaping the shutoff. The valve block would be placed to the machine's structure with a 3-point pattern.
Solenoids, a hydraulic pilot pressure or mechanical levers can activate or push the spool right or left. A seal permits a part of the spool to stand out the real estate where it is accessible to the actuator.
So, what's the best known types of micro switch in it?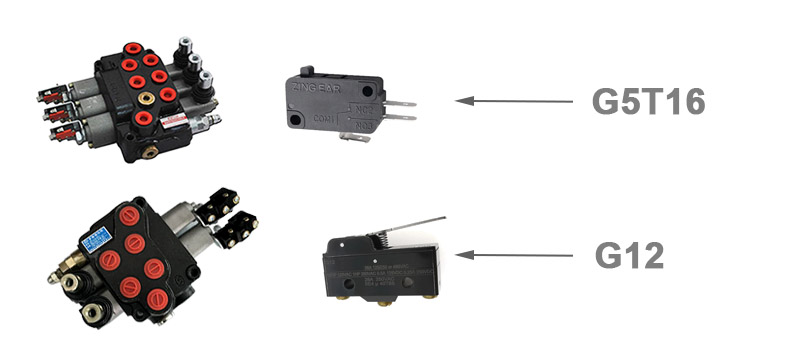 Generally, because of the size, rating, operation force, the G5T16, and G12 series micro switches are used frequently by the forklift parts manufacturer.
Firstly, the most important thing is the rating. For example, the maximal of voltage and current should be large than the forklift which can make sure the switch work. Secondly, the switch size and operation force should match with the installation situation. Thirdly, it is the electrical cycles, a micro switch will affect the life of the control valve.
How to choose a switch?
As a years experience of switch manufacturer, for the forklift project. We suggest the certificates, rating, and size, both of them are the most important thing. And our GT516 and G12 is the regular model in the forklift, if you need more details, please fee free to contact us.