Cam Timer work in dish-washing machine
The cam timer is part of the dishwasher to control the time for dishwashing. The timer motor rotates at a fixed speed, and the camshaft is driven through a speed-reducing gearbox at a convenient slow speed. Finally, the micro switches are activated then the dishwashing machine will stop or start working.
The micro switch in the cam timer
Firstly, if wanna replace the microswitch we need to find where the can timer is. As the following picture show, the cam timer is behind the time switch panel. Generally, the are more than 6 micro switches in it.
Secondly, pull the switch out of the timer. The user only needs to remove the install screw and the wire from the terminals then we can take it out.
Thirdly, you can discern what the parameters are from the switch appearance, for example, the picture tells us, on one hand, this is a simulated roller lever and 3 terminals (SPDT) micro switch, on the other hand, we can know the item number is V7-1C17D8-295 so that we will easy to know its brand is Honeywell and the parameters.

Buy a same item switch or a replacement
Because Honeywell is a well-known brand, we can buy it anywhere such as the local store, online store, or brand website. However, if you think of the cost, you also can find the perfect replacement to fit. For instance, Zing Ear G5T16-E1Z200A04 which is a dishwasher micro switch as well will be much cheaper. The most important thing is the same parameters as the item you use.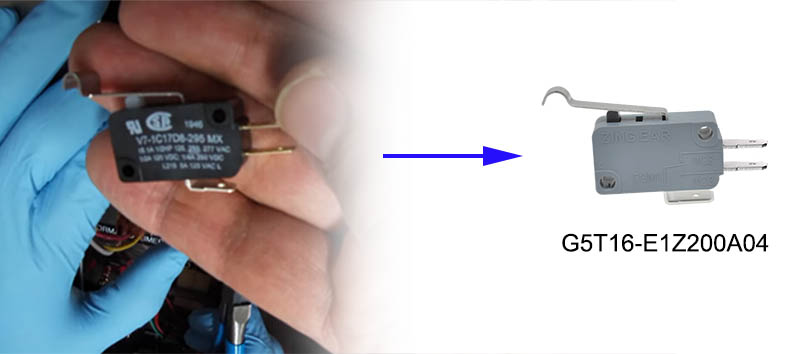 Installing and do some test
After finishing the installment, we need to do some test before use. Like the terminals connection and installing position will affect the micro switch work.
All in all, if you have any questions about dishwasher cam timer micro switch replacing, welcome to contact us.