Ceiling Fan Light Switch Features
Zing Ear e89885 switch is a popular item on the market and widely used in the ceiling fan to control the power supply of lighting. It is 3-speed rotary fan switch with plastic and phenolic material that also ensures operating safety. What's more, this item also has UL, CSA, and CQC certificates to meet your requirement on product quality.
Meanwhile, ZE-268S6 series have different function, such as "OFF, L-1, L-2-3, L-3",  "OFF, L-3, L-3-2, L-1", and "OFF, L-3, L-3-2, OFF" for options.
The rating is 3A 250VAC/ 3A 125VT,  6A 125VAC/6 125VL so it can work in the voltage in most of the countries. Meanwhile, the switch in 6A and 3A are the regular current to use. If you need the different length for the screw head (details see the A length in the drawing), we also can provide for you, 7mm, 9mm, 11mm, and 14mm length are available. Because there are have more than 50 pcs of items for this switch, any requirement you may need, please feel free to contact us. We will provide the product to you. We hope we can establish a long-term cooperation relationship with your company.
ZE-268s6 Pull Switch Drawing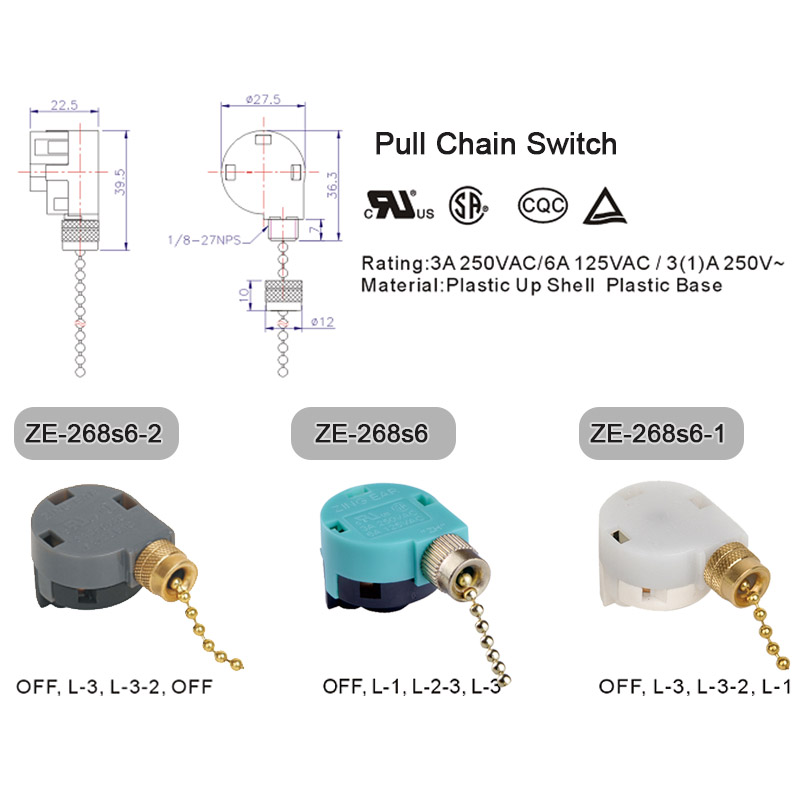 Why choose us?
Firstly, we are the factory of Zing Ear switch for many years,  so we can provide you the high standard quality micro switch products;

Secondly, we have approved by ISO9001,ISO/TS16949, ENEC, RoHS, REACH, CQC etc. Therefore, we not only can know your requirement professionally, but also we provide you certificates.

Thirdly, we will help you to solve your problem in the project, because our engineer and sales will service you in the same time.

What's more, if you need other electron components, we can help you to buy them and ship with our switch.