The Application of Micro Switch in A Car
Like the picture show, the microswitches are widely used in auto industry.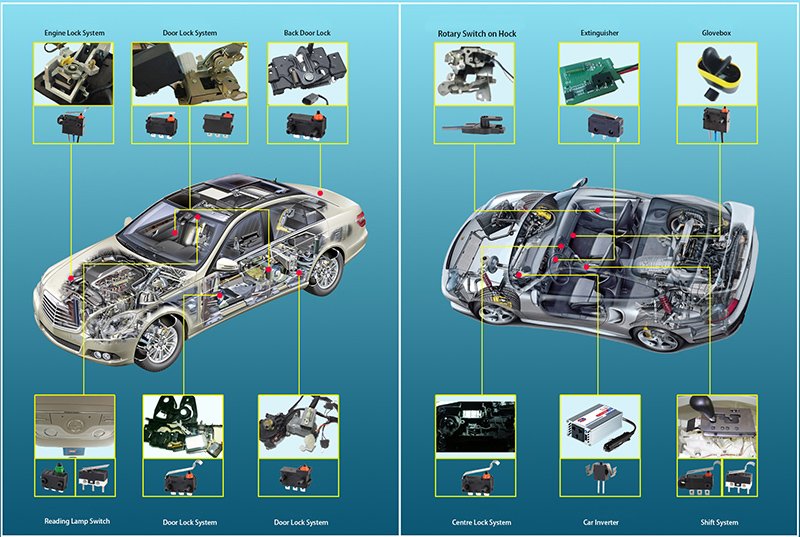 Fist of all,  the application of micro switch could be the engine Locking system, and Zing Ear g303-130E**A7 is suitable for it.
Secondly, G303-130S**A1 and G303-130S**A4 are also perfect for the door locking system and so on.
All in all, our G3 series is the most common microswitch in Automobile, such as back door lock, glovebox, reading lamp, side door lock, central locking system, shift system and so on.
As we can see, this series of micro switches have a great demand for a car. More details, weclome to click here to see G303 prodcut or contact us to get the catalogue and free sample.
Besides, the parts in an automotive is very intricate. So it will need various type of switches, like G2, G605, G10. For example, the G2 rotary switch on hock, G605 in extinguisher, G10 in reading lamp and shift system.
Hey, you may have some questions for these switches. Such as, how is the quality? and what's the price? and so on.
Speaking about Zing ear, it was established in 1983 and the switches have ENEC, CQC, CB, UL and CUL certificates. In order to let our customer to know more about our product, we can provide some free sample to you before place order.
What's more, as a experienced manufacturer, we will do custom service with low quantity requirement, like 200pcs. If you need some test but you don't have time or no condition. Our engineer will help you to do some test in our laboratory.
Welcome to contact us, we are your reliable micro switch supplier.