G5W11 Micro Switch Details
Microswitch Limit Switch Features
G5W11-WC200A04-W3 is a big current micro switch in sealed waterproof type, and the maximal current is 10A which suitable for 0.01A to 10A range. Meanwhile, to prevent water into the inner structure, the switch was designed with a rubber ring and waterproof coating on the surface, and IP67 approval. So it can be widely used in many kinds of home appliances, vehicles, outdoor equipment. Besides, the G5W11 also has a variety of items for options, such as the terminals, lever, current, and so on.
What's more, Zing Ear not only has many years of experience in switch R&D but also has many global safety approvals to ensure the product quality, such as UL, CUL, ENEC, CQC, and so on.
Welcome to contact us to tell us your requirement, we can do the customer customizable service with a free sample. With so many years working with our customers, Zing Ear can understand what you need, we will provide ONE-STOP solution and Engineering support.
Microswitch Limit Switch Details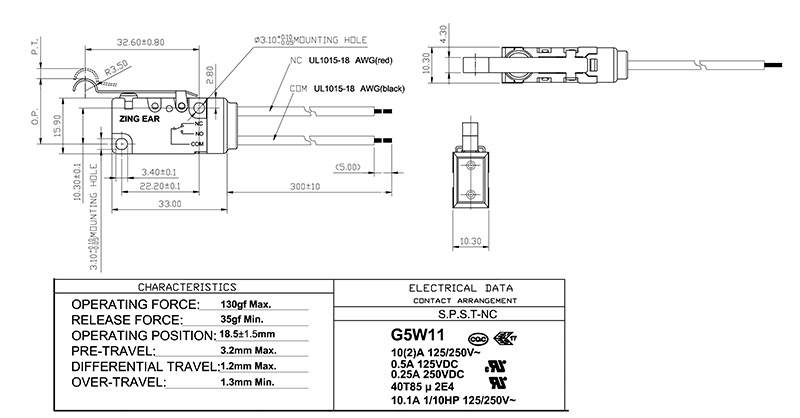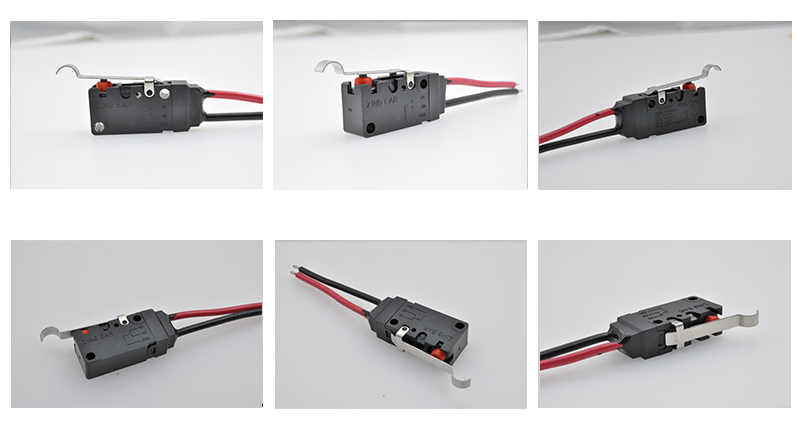 What does the item number means on a microswitch?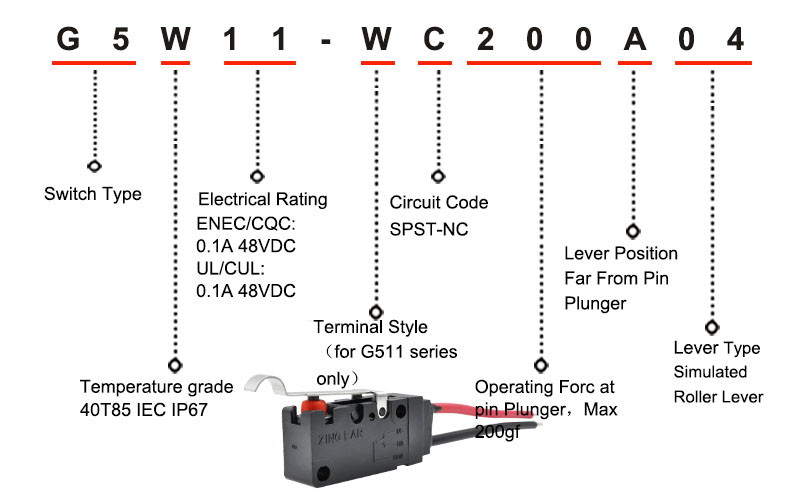 As you can see, we can do the parameters as you want. So you can contact us to tell us your request. For instance, the terminal size, operating force, lever type, and etc. all of them can be custom. Therefore, we can provide all micro switch and other product you need to you satisfactorily.
How to choose a limit microswitch item you want?
Huizhou Granye Industrial Co., Ltd
As an illustration, you can see the picture from the left side. It not only show the parameters of this series microswitch, but you can choose your item easily as well.
For example, if you need a switch in 0.1A 48VDC, Lead Wire, Long straight lever SPDT 100gf operating force and MAX 85℃. You can choose our G5W11-WA100-W1. However, if you are not sure, you also can tell us your requirement, we will recommend an item for you.
[contact-form-7 404 "Not Found"]