Subminiature Waterproof Micro Lever Switch
| Item Number | G306-150E31BA-300 |
| --- | --- |
| Rating | DC 0~30V,  0.1A, DC 0~14V 0.01A |
| Protection Level | IEC IP67 |
| Temperature | -45~125℃ (25T125) |
| Electrical Life | 300,000cycles(30times/min.) |
| Circuit Code | SPST Normally Closed |
| Terminal Type | Lead wire |
| Voltage Resistance | AC1000V, 50/60Hz, 1min |
G306 Mini Micro Switch Details
Microswitch Features
This waterproof micro lever switch is an SPST normally closed switch and because of the dustproof and waterproof rate is IP67, we not only can use it in a wet environment but in dust surround as well.
And, like a miniature snap-action switch, it has a long simulated roller lever which can help the switch to release its operation force. For example, the operating force is 150gf without a lever. But if we have this lever, the operation force will change to another parameter. Hey, this is a 31# lever.
Meanwhile, G306-150E31BA-300 belongs to the M3 shape and post. Some equipment needs it because of the installation requirements. For example, the screw in the system is M3, customer only can use the M3 microswitch to install it.
Drawing and Photoes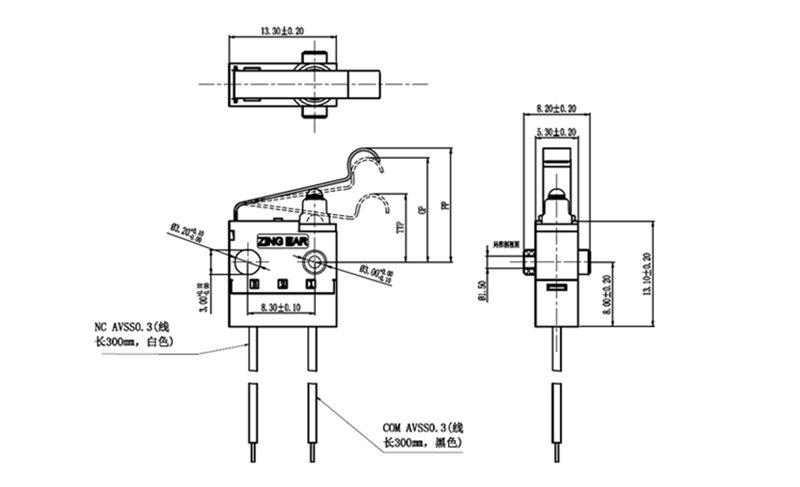 Why choose us?
Firstly, we are the factory of Zing Ear switch for many years,  so we can provide you the high standard quality micro switch products;

Secondly, we have approved by ISO9001,ISO/TS16949, ENEC, RoHS, REACH, CQC etc. Therefore, we not only can know your requirement professionally, but also we provide you certificates.

Thirdly, we will help you to solve your problem in the project, because our engineer and sales will service you in the same time.

What's more, if you need other electron components, we can help you to buy them and ship with our switch.