Short Description: The PB-01L is the push button electrical switch with UL, CUL, ENEC, and CB certification. In addition, this switch has 2 functions for options, one is 2T1T (ON-OFF)  and another one is 1P1T (Normally OFF) with neon light.
Item Number
PB-01L
Rating
10A 250VAC, 16A 125VAC
1/2HP 1250VAC, 1/4HP 125VAC
10(6)A 250VAC T105 5E4
10(6)A 250VAC T105 1E4
Material
Plastic
Function
ON-OFF/ Normally OFF(with Neon light)
(2P1T)(1P1T)
Certification
UL, ENEC, CB
PB-01L Push Button Switch Details
The Features of PB-01L Electrical Switch
The PB-01L key-press and base are made of high-quality plastic which makes sure safe use. Meanwhile, the switch has got the certification of CUL, UL, ENEC, CB so that it will perfect for customers from all over the world. Such as the United States, Canada, Germany,  Italy, Korea, Japan and so on.
The rating of this electrical button switch is 10A 250VAC 16A 250VAC, 1/2HP 250V 1/4HP 125V, 10(6)A 250VAC T105 5E4. So, this is not only suitable for home appliances using but industrial equipment as well.  For the function, it has ON-OFF(2P1T) and  Normally OFF with Neon lamp(1P1T) for options.  Besides, we have at least 4 kinds of terminals for this item, so that you can choose due to your wiring methods.
Push Electrical Switch Drawing
The drawing will show the parameters of this item, such as the electricity, voltage,  functions, terminals, size, and so on. If you need more details information, welcome to contact us to get the specification and other items.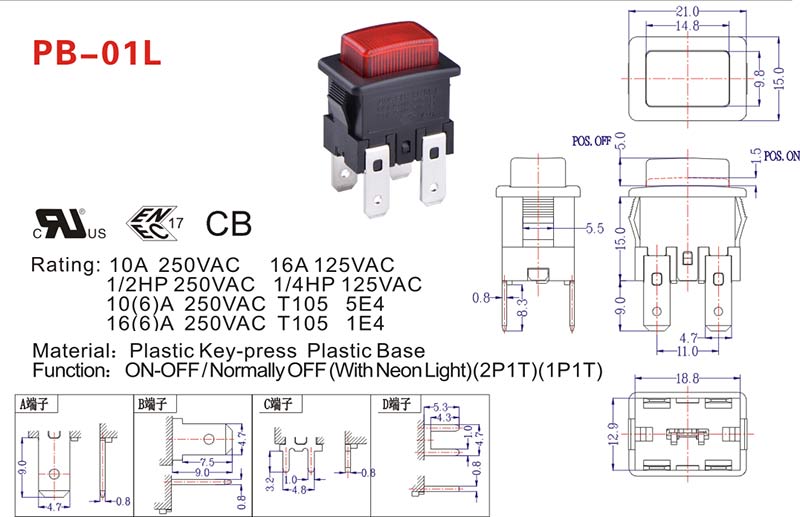 Huizhou Grandye Industrial Co., Ltd. is a leading manufacturer company in China, which belongs to the Zing Ear group. And, we have many years of experience producing different types of micro switches since 1983.
On one hand, our factory has certified ISO9001, IATF16949, and ISO14001 quality assurance system. On the other hand, the products have also many global safety certificates to ensure quality. Such as UL, CUL, ENEC, CQC, and so on.
Generally, when customers make a purchase, they not only need a micro switch but other electronic components as well. But if you buy from different companies will waste a lot of time and shipping cost on it. So, the ONE-STOP solution that we will help you buy the goods and ship together to save time and money.
If you need do customization, our engineer will according to your requirement to produce for you.
SPST Push Button Switch Normally ON or OFF 1.5A 250VAC 3A 125V
GrandyeAdmin
2021-03-31T01:57:22+00:00